Samuel Preston Bayard was born in 1908 in Pittsburgh. His uncle owned a farm in Greene County, Pennsylvania, in the Southwestern corner of the state, where young Sam spent a great deal of time growing up. 
In 1928 Bayard's parents took him on a trip to Britain, France and Ireland. Bayard recounts the story that in Connemara, West Ireland: "An old Irish woman sang me several Irish Ballads and I took them down. I had taken to music early, but it was the first time I realized I could take down tunes by ear that way. I was delighted and immediately made plans to go back and collect folk songs in Ireland." 
But soon Bayard found rich folk traditions at home. "I was visiting my uncle in Greene County when I happened to find out that two of the neighbors were old-time fiddlers and folk song singers. I had known them both for years, but never realized that while I sought folklore far away, it was right at my door." 
On November 5th, 1943, Bayard found his way to the home of Mrs. Sarah (Gray) Armstrong. Mrs. Armstrong was born and brought up in the region of Derry, Westmoreland County, Pennsylvania, and had lived there all of her life. The Grays were of Scottish descent and her father Charley and his brothers Laney, Dan, Joss and Abe were all skillful on some instrument and were accustomed to playing for dances. Sarah began playing at the age of five and learned most of her tunes from her Uncle Laney who was the most accomplished fiddler in the family. Although she was accompanied by her daughter on piano and her son on banjo, her children did not pick up her repertoire and she was left as its sole preserver.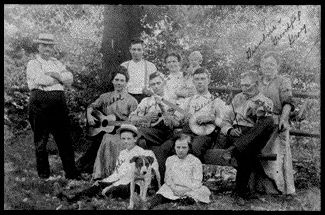 Bayard transcribed four tunes that day. He must have been impressed because thirteen days later on November 18th 1943 he returned and transcribed thirty-three more tunes! These thirty-seven tunes would make Mrs. Armstrong the principal contributor to his book "Hill Country Tunes" (https://www.mne.psu.edu/lamancusa/tunes/hct/index.htm) published in 1944. Although Bayard mentions the presence of a recording apparatus in the Armstrong home, there are no known recordings of her playing. 
In June of 2002 I attended an old-time fiddler's festival in Elk Creek, Virginia. We were jamming on the front porch of the home of Jerry and Donna Correll, who live in Elk Creek. Ellen Vigour played a tune that really caught my ear. She called it "Sarah Armstrong's Tune". The name stuck with me and I realized that I actually had a book called "Hill Country Tunes," with more of Sarah Armstrong's tunes in it. I learned a few, and then a few more, and before I knew it I was hooked. Over the last two years I have learned and recorded twenty-seven of Sarah Armstrong's tunes. I have no way of knowing if they sound anything like she might have played them, but most of the notes are there. Maybe some day a recording will show up and we'll see how close I got. So... here is my recording of "Sarah Armstrong's Tunes."
Download Sarah Armstrong's Tunes - Todd Clewell and Friends